We received Spanish for You!- Estaciones for review purposes.
Product link: Spanish for You! curriculum page
Product page for Estaciones (we reviewed)
Vendor Contact Information: Spanish for You!
Age Appeal: 3rd to 8th grade (we focused on 3rd to 4th grade)
Format: PDF and MP3 audio files
Price: $64.95 for complete package (visit the curriculum page for more options)
Is it important for your family to learn a language which is not your native language? Does your family want to learn Spanish in a non-textbook format? Spanish for You! is a themed Spanish curriculum. The current themed packages are Estaciones and Fiestas. In June of 2013 Viajes will be available.
Included in the complete package are.
soft cover book or e-book (we had the e-book)
24-30 week lesson guide as a PDF download for the grades you need (free lesson guide)
self-checking worksheets are a PDF download (free worksheets)
MP3 downloadable audio files of the book in both native Spanish and by the author
flashcards as a PDF download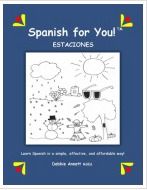 Our Experience:
I did not actively learn Spanish until I was in high school and I had to repeat much of it in college. I was at an age, where I could not easily retain it. I want more than that for my children, so I am glad they are beginning to learn when they are in first and third grade.
I was really interested in Spanish for You!, because it was in themes, not in the typical textbook form. When I received my e-mail with the downloads I downloaded everything at once and printed the e-book and flashcards for the children. I printed the Lesson Guide for myself and then we got to work on our first lesson. The first lesson took us around twenty minutes. I was pleased, because our classroom time was designed so that each lesson would only take twenty minutes. I was disappointed in the following lessons, because it was taking us forty minutes to complete one lesson a day. It took the children around fifteen minutes to complete one worksheet and some days had more than one worksheet. I decided to make each lesson take two days if needed. It worked well and made the children happier.
I Liked:
That the children were learning Spanish by listening, speaking, reading, and writing.
That there were fun worksheets and games like; Charades, Memory, and Hangman to make learning fun.
The grade divisions, so if we had other grades in our family we could all do it together.
The detailed Lesson Guide.
I Disliked:
Each daily lesson took much longer than our usual twenty minute lesson times.
What B (boy, age nine, officially in third grade) Liked and Disliked: Spanish isn't really for me, but I did like some of Spanish for You! I liked playing Charades, learning the days of the week, and filling out the worksheets. I think Spanish for You! would be good for kids my age.
What C (girl, age seven, officially in first grade) Liked and Disliked:
I liked learning the days of the week. It was really easy.
I liked the worksheets. I had fun circling and drawing my answers on them.
I had fun learning the different verbs like, dibujo (I draw).
It would be good for kids my age and older.
Dad's Call:
I liked that Spanish for You! had the singular and plural versions of words and phrases along with the English version for clarity.
Using well known simple games like Hangman and Simon Says helps to reinforce the lessons.
I like the Lesson Guide which helps the teacher to effectively teach the materials to the kids. It's well laid out and easy to follow.
I certainly recommend Spanish for You!
Mamma recommends Spanish for You!