We received Tunnel of Gold (book 2 in the Goldtown Adventures Series) by Susan K. Marlow from Kregel and Susan K. Marlow for review purposes.

Product link: Tunnel of Gold
Vendor Contact Information: Susan Marlow and Kregel Publications
Age Appeal: 8-12
Format: paperback (ISBN: 978-0-8254-4295-7, copyright 2013)
Price: $7.99 plus $2.50 for shipping and handling (you may purchase both books in the series for $13.95)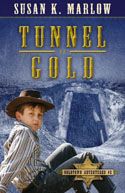 The Midas Mine has run out of Gold! Jeremiah Coulter, otherwise known as Jem, is caught in the middle of a miner's riot, along with his cousin and sister. He hopes his father, Sheriff Coulter, can stop the riots.
He soon learns from the mine owner's son, Will Sterling, that the only way to get the Midas going is to make an airshaft in a mine the Chinese have been scavenging in. They can do it legally as long as they pay their taxes.
The other owner of the Midas, Mr. Carter, and his son Chad come to town to help solve the problem. Will also has an idea to help everyone.
The miners are still rioting and the Chinese have been threatened. Jem doesn't know what to do. How will his father keep the peace? What is Will's plan? How dangerous is it?
Our Experience:
This was not our first experience reading a book by Susan K. Marlow, so we knew the quality and excitement that this book would offer. I was excited when Tunnel of Gold arrived and I sat down and began reading it. B and C were otherwise occupied, so they didn't get to crack open the book.
I was going to have B read the book to himself and I would read it to C as a bedtime story. Since we are at the ranch for the summer, it didn't work that way. I ended up just reading the story to the children when the opportunity presented itself. Whenever we finished a chapter they would say, "read more, read more." We also spent some time looking at the enrichment guide and working on the activities.
I Liked:
I liked that there was a boy for the main character. It can be difficult to find good books for boys in this age group.
I liked all the lessons learned like, be careful in a mine, think before you speak, and sometimes you should wait for someone older to help with a job.
I liked the descriptions of Goldtown and what was happening. I felt like I was there experiencing it.
Many of today's children seem to lack the ability to be responsible for their actions or their chores. I liked how responsible Jem, Ellie, and Nathan were.
I liked how this could be a stand-alone book. We didn't need to know what had happened in Badge of Honor.
I Disliked:
There were times that I didn't quite approve of the attitudes of the children towards each other, but I know it was to prove a point in the story. I happen to have children that can easily pick-up on negative attitudes and put it into their daily lives, so I try to stay away from negativity.
What B (boy, age nine, officially in third grade) Liked and Disliked:
It was a good book for kids my age. One of my favorite parts was when a mine collapsed (Momma here- I think he liked the adventure).
I liked the whole book. It was everything you could want in a book. It was about the Midas Mine and about how Goldtown would stay a gold town or a ghost town. The illustrations were great. They showed a lot of detail.
What C (girl, age seven, officially in first grade) Liked and Disliked:
I liked the illustrations by Melissa McConnell. I liked the story. I liked most of the characters like Strike-it-rich Sam and Jem, Ellie, Nathan, and Chad. I didn't like the mine collapsing. It was good for kids my age.
Dad's Call:
Dad was unavailable for this review.
Mamma really recommends Tunnel of Gold by Susan K. Marlow.