We received A Trip to the Library Lapbook from In the Hands of a Child for review purposes.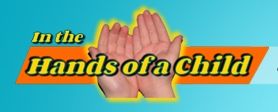 Product link: A Trip to the Library
Vendor Contact Information: In the Hands of a Child
Age Appeal: K-3rd
Format: Downloadable PDF
Price: $10.00
Our Experience:
We have family members who work at the library, so I thought B and C would enjoy this lapbook, because they already know a lot about the library and this way they could learn the parts that I have not actively taught them, like the Dewey Decimal System.
When we got the download I read all of the information to B and C. B was really interested in learning about it. I knew that C would learn more as we were putting the lapbook together. Cutting isn't B's thing, while it is C's, so C was the one who did all of the cutting. She also worked on tracing the words, because our printer was running out of ink and it was really hard to see the letters. C worked hard on it and I assisted her. We aren't doing school right now and it only took us a couple of days. After we cut everything out, we assembled it and took pictures. You can see some below.
I Liked:
I liked the PDF information about the library. It had a lot of detail, like about the parts of a book and the Dewey Decimal System. B and C now know the different parts.
It is perfect for children who like to cut or improve their cutting skills.
I liked learning the rules of the library. Sometimes when we go to the library I can tell that some of the children have never been taught about how to behave while at the library.
I liked doing this as a family, because we saved on paper and ink and come closer as a family.
I liked all of the information on how to do a lapbook and how to work on this specific one.
I Disliked:
It takes a lot of paper and ink, so I think it can be better to work on as a family.
It took much longer to do the activities than I thought it would.
What B (boy, age nine, officially in fourth grade) Liked and Disliked:
It was a good product. I don't really like to cut, so C did a lot of the cutting. I had fun laying the pieces onto the lapbook. It's pretty good for kids my age.
What C (girl, age seven, officially in second grade) Liked and Disliked:
I liked the product. It was really fun. It was a lot of cutting and tracing. I learned about the different types of libraries. I liked the 500's best in the library, because you can find animals. I plan on looking at the lapbook, because I like it and I want to remember things from the library.
It was good for kids my age and younger and older.
Dad's Call:
Dad was unavailable for this review.
Mamma recommends A Trip to the Library Lapbook, just remember to have lots of ink and paper on hand for printing. If your child doesn't like to cut you may need to do the cutting.