We received the Understanding Child Brain Development DVD from the Family Hope Center for review purposes.
Product link: To order the DVD, please call 610-397-1737 or you can order Understanding Child Brain Development from IEW.
Vendor Contact Information: Family Hope Center
Age Appeal: Adults
Format: DVD
Price: $19.00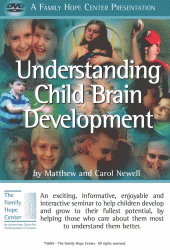 Our Experience:
Since this DVD wasn't for children, B and C didn't participate and there will be no reviews from them. My husband and I watched the video separately and came to similar conclusions. Read on to find what they were!
I Liked:
I liked all of the specific information about the brain and how it develops in a young child. My first thought was that I wish I had watched something like this before I was a parent.
I was glad it was in six languages, so it can reach more people.
It was thorough enough to be good for people in the medical field to share the information with their patients.
Not only was this DVD good for parents of special needs, it is good for all parents.
I'm glad they evaluate the brain, not the disability to help the child improve
The slides were complete and helped me understand exactly what a child should be doing at a certain age (birth to thirty-six months).
I'm glad the Family Hope Center takes the whole child and their environment into consideration.
I Disliked:
What B (boy, age nine, officially in fourth grade) Liked and Disliked:
The video was not for his age.
What C (girl, age seven, officially in second grade) Liked and Disliked:
The video was not for her age.
Dad's Call:
I found the Family Hope Center's video "How To Help Your Child With Special Needs" to be quite informative. They showed how a child's basic movements affect the operation and growth of the brain. They also explained how we parents can unknowingly hinder a child's brain growth. What I found to be the most positive is that if a child is developmentally behind his peers that there are non-pharmaceutical, non-invasive surgery methods to stimulate the particular parts of a brain to correct the disorganization of that part. The Family Hope Center deviates away from society's unattractive labels used to describe symptoms by using the language to discuss the cause.
This information would be an excellent training source for hospital maternity wards, mid-wives and those involved with prenatal care. A shortened DVD version with a simple printed list of what activity relates to which part of the brain would be good for new parents to have. This way parents would have an easy reference to understanding their child's behavior and reduce the parent's anxiety at the same time.
Overall I thought the 2 hour and 10 minute video was worth my time. It did start off rather slow and technical but it all came together in the end. I give praise to the Family Hope Center for seeking out the answers to solve problems instead of simply treating symptoms with prescriptions, braces of various types or invasive surgery. Keep up the great work!
Mamma recommends Understanding Child Brain Development from the Family Hope Center to anyone who works with children from birth to thirty-six months and even those who have older children.