We received this for review purposes!
Product Links: If He Had Not Come
Vendor Information Link: David Nicholson
Age Appeal: Best for ages six and up
Format: Hardback book, with 40 pages
Price: $18.95
Are you looking for an original Christmas book? Look no further than If He Had Not Come, by David Nicholson. This story was originally in an anthology by Cynthia Pearl Maus in 1938 and was written by Nan F. Weeks.
This story is about a boy named Bobby and what happened to him on Christmas Day. The story begins with Bobby reading the Bible with his father on Christmas Eve. They read John 15:22 and five words from the verse keep running through his mind, "If I had not come." Bobby goes to bed and wakes up very excited for Christmas. When he goes downstairs there is no evidence of Christmas, he goes outside where he finds no evidence of Christmas or that people even know anything about Christmas or Christ. He goes to his church, the Children's Home, hospital, homeless shelter, and to his Bible at home. He finds no evidence of Jesus, just the words, "If I had not come." As he looks at his Bible that has only the Old Testament, he hears bells. He jumps out of bed and it is Christmas. He kneels and prays to Jesus.
The rest of the book contains study questions and information about the Gospel message.
All proceeds of sales from the book go to the National Christian Foundation.
Our Experience:
Christmas is an important time of year to many people and this book shows how important it truly is. I have always enjoyed Christmas. When I was little it was about the presents and also about Jesus. Now that I am a parent I do try to make sure that the focus is more on Jesus. I thought this book was the perfect opportunity to show B and C how important Jesus's birth was to all of us.
I was excited when the book arrived, so I had the children sit down with me and we read the book. We have read the book several times since then and Dad read the book to the children too. As a family we spent time discussing the questions at the end of the book. I thought it was important, because the questions helped us think even more about how important the birth of Jesus is to us.
I plan on keeping If He Had Not Come where we can easily see it and read it.
Mama's Thoughts:
The feel of the book is very silky and it makes it fun to hold the book. The book cover makes it fun for any child to hold and enjoy.
One of my favorite parts of this book is the questions at the end of the book. The questions and the time we spent together as a family answering them, really helped complete the book. It helped us draw nearer to Jesus.
This book would be perfect in Sabbath School classes and for every family to read. It would also be great for Christian elementary schools and public libraries. This book will help those families focus on the true reason for Christmas.
I liked Charles Jaskiewicz's classic illustrations. I could spend a lot of time studying the illustrations while reading the text.
B's Thoughts (boy, age 10, officially in fifth grade):
I liked the feel of the front and back covers. In the book it did not make sense why in his dream, the church had a sign saying, "'If I had not come' John 15:22." I loved the illustrations, they were so nice. I liked the question section at the end of the book.
Overall I would recommend this book.
C's Thoughts (girl, age 8, officially in third grade):
I liked the illustrations, they were nice. It is good for people of all ages. I did not like thinking about a world without Jesus, so I did not really like the book.
Dad's Thoughts:
If He Had Not Come by Nan F. Weeks and reintroduced by David Nicholson gives us a question to consider. If Jesus had not come into this world how what would it be like? How would people act and react? We should all take some time to ponder this. And there is a study plan in the back of the book to go further in depth. The illustrations by Charles Jaskiewicz are nicely done.
Mama highly recommends this!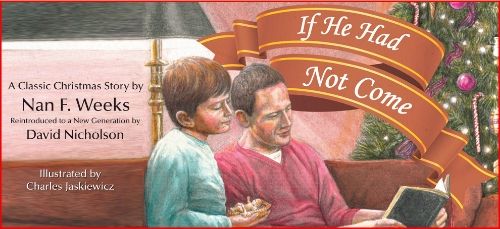 Social Media Links!
Facebook: http://www.facebook.com/pages/If-He-Had-Not-Come/1543755249189773?ref=tn_tnmn