Product: Song School Spanish: Book and CD or Teacher's Edition
Vendor Contact Information: Classical Academic Press
Age Appeal
: Kindergarten – Third Grade
Format: Physical workbook (one time use) with CD
Price
: Student book (includes CD)- $24.95 (ISBN: 9781600510786) and Teacher's Edition – $24.95 (ISBN: 9781600510793)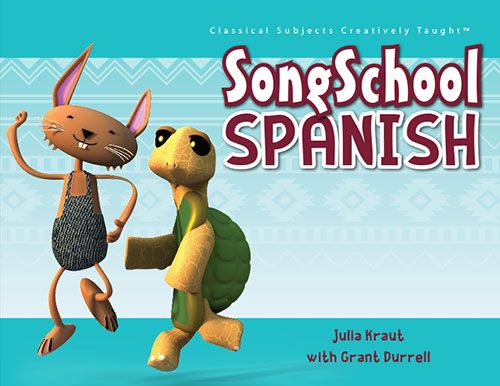 Cómo estás? Estoy feliz! Are your young children interested in learning a foreign language that will help them learn and communicate it their entire lives.
Song School Spanish has:
25 weekly lessons and 6 review chapters.
A music CD, sung by native Spanish speakers, with over 40 songs and chants.
An introduction to Spanish grammar.
Over 100 vocabulary words for conversation, family, body parts, seasons, and more.
Our Experience:
I was excited to review Song School Spanish, because I want my children to learn a language that will serve them all their lives. This book contained the basics they will need to know to learn more.
We chose to do the lessons:
Day 1- Learn the vocab and songs
Day 2- Complete the workbook pages
Day 3- Review the songs of the current and past lessons
This has worked very well for us. The children are having fun with others by using the vocabulary they have learned.
What I Liked:
The catchy songs. They helped us to learn the vocabulary.
B and C having fun cutting out the objects and using them to put on plays.
Listening to C sing the songs along with the CD for over an hour in her room.
Review sections every couple of chapters. The children like the stories and it was great to review the vocabulary.
What I Disliked:
The price of the workbook. It is expensive for those who need to buy many copies. We also don't need lots of copies of the music CD which comes with each workbook.

What B (boy, age nine, officially in third grade) Liked and Disliked:
Song School Spanish is such a good product for learning Spanish. The songs are super fun. You don't have to work in a textbook all day. You get to sing songs and work in a workbook. It is a quick, fun, and easy way to learn Spanish. Even if you don't know Spanish at first you'll know some by the end of the first chapter.
I think this product is very good for kids my age.
P.S. Adiós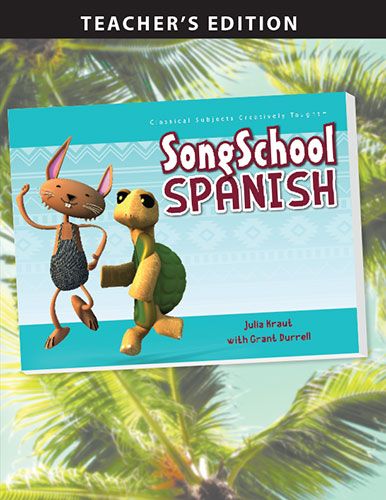 What C (girl, age seven, officially in first grade) Liked and Disliked:
The songs were fun to learn. I liked "If You're Feliz and You Know It."
I liked cutting out Conejo and Tortuga and playing with them.
Song School Spanish would be good for kids my age!

Dad's Call:
I liked the use of songs in the lessons.
I liked how the lessons are simple and reinforced for learning.
The lessons are well laid out for ease of learning and for keeping student's attention.
Momma would definitely recommend.

Disclaimer: I received a free copy of Song School Spanish through the Schoolhouse Review Crew in exchange for my honest review. I was not required to write a positive review nor was I compensated in any other way. All opinions I have expressed are my own or those of my family. I am disclosing this in accordance with the FTC Regulations. All links were current when posted.