We received See It and Say It Flip Flop Spanish, by Señora Gose, for review purposes.

Product Link: See It and Say It Flip Flop Spanish
Vendor Contact Information: Flip Flop Learning
Age Appeal: Ages three and up
Format: two-year curriculum with three different sets of flash cards (135 cards), four audio CDs, white board paddle and pen, and 150 page manual
Price: $99.95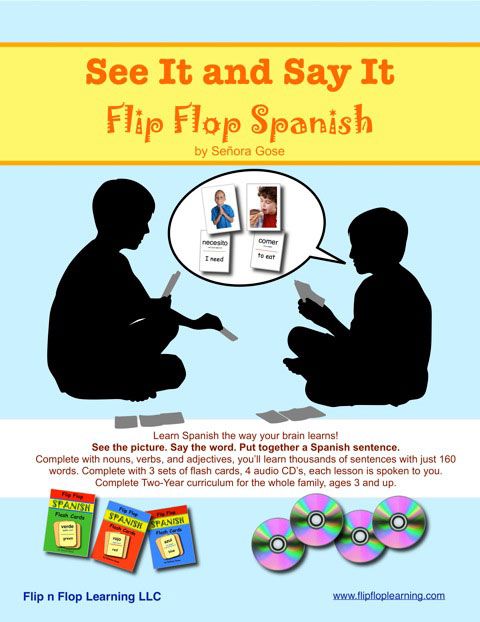 See It and Say It Flip Flop Spanish uses picture flash cards, repetition, and sentence making to learn more than 250 words and make many different sentences.
The children will select the lesson flash cards, play the CD, and follow the instructions. They will do one lesson a week. Days one and two use the CD and the flash cards. Day two is a repetition of day one. On the third day the parent is the teacher and reads the transcript and works with the children.
Go to the website to see samples of the lessons- See It and Say It Flip Flop Spanish
Our Experience:
C and I were very excited when we were chosen to review See It and Say It Flip Flop Spanish. C really enjoys learning Spanish and I was intrigued by the use of flash cards and short lessons.
The first day we did the first lesson we got out the necessary cards and the CD. I played the CD and C did what the CD asked of her. She was very surprised when her lesson ended. She wasn't expecting it to be so short. She wanted to practice more. I thought it was great, because I teach using the Charlotte Mason Method, which means short lesson times.
We consistently did the lessons for the recommended three days a week. B also worked on the lessons though not as consistently, because we only had one complete set of flashcards. I think I will increase it to five days a week, because it would give C and B more practice.
I Liked:
I liked the short lessons.
I liked the photos on the front of flashcards and the pronunciation guide and English word on the back.
Having the CD helped the children have more control over the lesson and a different teacher. I was still there for each lesson, so I could make sure everything was done properly and I got to help with day three!
Having everything in a nice, easy-to-close box made storing easy.
I Disliked:
It was hard having only one set of flashcards and two children, because B was usually the last one to touch the card and he was bummed. It might just be easier to practice separately.
What B (boy, age nine, officially in fourth grade) Liked and Disliked:
I don't particularly like Spanish, but I liked the program. I liked touching the cards and saying the words, that was pretty fun. It is a good product if you want to learn Spanish. I recommend See It and Say It Flip Flop Spanish for all ages.
What C (girl, age seven, officially in second grade) Liked and Disliked:
I liked learning the Spanish words. I can't wait to do more.
It would be good for kids of all ages and grownups.
Dad's Call:
My first impression of See It and Say It Flip Flop Spanish was a positive one based on the packaging and arrangement of its contents. Even after reading the lesson plan layout, the flash cards and listening to the CD's I was still impressed. It's a high quality program with just enough quantity per lesson to challenge but not overwhelm B & C. The games are fun and the kids really seem to be picking up Spanish quickly and easily.
I agree with Mama that having 1 set of flash cards presents problems when you have 2 or more students but I also agree with her that letting B & C do each lesson separately is a good solution. I did like length and number of times you do each of the lessons. See It and Say It Flip Flop Spanish is a well designed product to add to your homeschooling curriculum.
Mama highly recommends See It and Say It Flip Flop Spanish by Señora Gose!