We received The Logic of English Essentials from PEDIALEARNING INCORPORATED for review purposes.

Product link: Essentials
Vendor Contact Information: Logic of English
Age Appeal: six-years-old and older (adults included)
Format: Teacher's manual, student workbook, Basic Phonogram Flash Cards, 2 decks of Phonogram Game Cards, Spelling Rule Flash Cards, Phonogram & Spelling Game Book
Price: Hardcover Teacher's manual-$95, a student workbook (cursive)-$25, Basic Phonogram Flash Cards-$18, The Phonogram and Spelling Game Book- $25, and two phonogram game card sets- $10 each.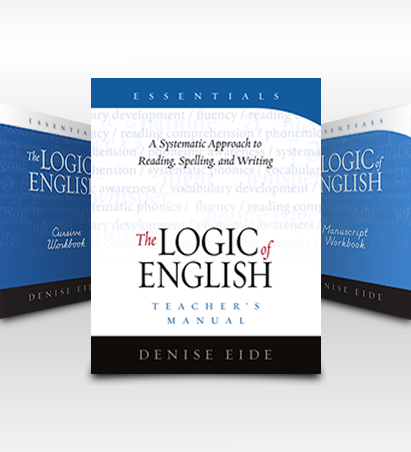 The National Reading Panel has identified five parts of reading instruction: Phonemic Awareness, Systematic Phonics, Fluency, Vocabulary Development, and Reading Comprehension. The Logic of English Essentials program includes these aspects with spelling, grammar, and writing to gain the full experience.
There are games and activities included for those who need more practice.
Our Experience:
B and C have never had a strong spelling program. I thought this program would be good for teaching phonograms and spelling rules, so they would have the knowledge to be strong spellers when they are older. I also thought it would help C to become a stronger reader.
C was the one who primarily worked on the program. B would play some of the phonogram games with us. He would also go over the Phonogram Flash Cards and Spelling Rule Flash Cards with us. I would quiz him to make sure he knew how to spell the spelling words.
C and I started using the program the way it was suggested for six and seven-year-olds. The total time for each day was 30-60 minutes and we would do it five days a week. We used that schedule for the first couple of weeks. I found though that it was too long for her and she wasn't remembering what she was learning, so we made our own schedule. We would work for 20-30 minutes a day for five days a week. We were able to practice the phonograms, play games, learn the spelling lists, and more. I was very pleased with the progress C made. I plan on continuing to use the program during the school year.
I Liked:
I liked all of the phonogram games and spelling games. I found that the phonogram games worked better than the phonogram flash cards for C. She had problems with all the different sounds the vowels made and the games helped her memorize the sounds. Our favorite game was "Dragon." It was played like "Old Maid."
The workbook and the teacher's manual worked together very well and I never had any problem knowing what I needed to tell C and she could get to work right away filling it out.
C was always willing to work on her lessons. I had a fun time watching her face as she grasped a new concept.
I liked the inclusion of grammar. It is so important to learn grammar and this was a good program to teach all the important parts of speech.
I thought it was great that this program can be used for ESL students, adults, and struggling spellers and readers. Everybody can learn.
The section on composition was especially important to me, because it really helped C to combine everything she was learning.
I Disliked:
It took us a lot longer to do a lesson with the suggested schedule. We made our own schedule and it worked very well.
What B (boy, age nine, officially in fourth grade) Liked and Disliked:
The length of the lessons were good.
The games and activities were fun.
What C (girl, age seven, officially in second grade) Liked and Disliked:
I liked the phonogram games like "Rotten Egg" and "Dragon." I liked the phonogram lessons, where I learned the phonogram sounds. The sounds they make were interesting. My favorite spelling rule was, "Q always needs a U; therefore, U is not a vowel here."
It was good for kids my age and younger and older.
Dad's Call:
Dad was unavailable for this review.
Mamma recommends The Logic of English Essentials Program.