We received this for review purposes!

Product Links: Audio Drama One: Who Created Everything?
Vendor Information Link: Wizzy Gizmo
Age Appeal: ages 4-12
Format: audio CD, around sixty minutes
Price: $14.99
Have you been looking for a fun way to explore the Bible with your children? Audio Drama One: Who Created Everything? from Wizzy Gizmo could be exactly what you are looking for.
This thirty-six minute audio CD discusses creation from Genesis chapter one. Professor Wizzy Gizmo has just invented Gizmovision. Gizmovision is a machine that will transport you where you wish to go, anywhere in space or time. The children are really excited for Gizmovision and want to go to different places, Wizzy decides to take them to the creation of the earth. The children learn and ask questions about creation. Pepe and Qwacky add some fun and humor to the story.
There is also twenty-four minutes of songs during and after the story.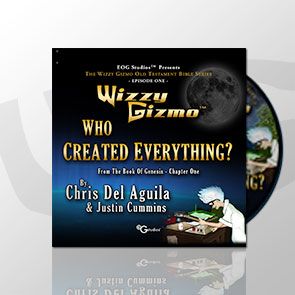 Our Experience:
I was excited when I learned about Wizzy Gizmo and how the CD was a Bible adventure, not just a story with a biblical theme.
B, C, and I have had so much fun listening to the CD when we go somewhere in the pickup. C was so excited when it came that we had to go out to the camper, put it in the CD player and listen to it while we played a game of cards.
We have also had different discussions each time we listened. This CD was perfect for having further discussions about what we believe and what was discussed between Wizzy and the children.
I am planning on getting the next CD about Genesis two. I cannot wait to see what we can discuss as a family.
Mama's Thoughts:
I really enjoyed this CD. I thought the characters were well developed and the music added a lot to the story. I thought Pepe and Qwacky were wonderful characters. They were funny and I think it helped the children realize what was true and not true when they talked.
I was glad that the company's passion is to help parents put Deuteronomy 6:5-6 into their daily lives. I sometimes have a hard time think of ideas on how to teach B and C about God. The audio drama was a fun way for them to learn more about an individual chapter in the Bible.
The songs were a fun addition to the story. I also liked how the characters sang the songs. It was nice to have complete versions of the instrumental music at the end of the CD.
The story was narrated from the Bible and the children observed what was happening. They did not interact with anything. They did discuss what was happening with Wizzy and he clarified it for them. I found nothing to disagree with and I would not hesitate to share this CD with others.
The website has excerpts from some of the tracks. Listening to the tracks is what made me so interested in this CD. I highly recommend that you go to the website and listen.
B's Thoughts (boy, age 10, officially in fifth grade):
I liked Wizzy Gizmo's Audio Drama One: Who Created Everything?. My favorite character was Qwacky. I thought Qwacky added a lot of excitement and fun.
I liked the Giz Quiz. I liked the answers Qwacky and Pepe gave, because they were funny.
I liked the Wizzy Gizmo theme song. I liked the bonus.
I this would be good for ages four to twelve. I would recommend this for people of all ages.
C's Thoughts (girl, age 8, officially in third grade):
It was fun to listen to. It had a lot of excitement. It was exciting that they got to see creation. My favorite character was Qwacky, because he was funny.
I really liked the songs. They were really good.
It is good for people of all ages. I liked it all.
Dad's Thoughts:
Dad was not available.
Mama highly recommends! Your family will want to listen and learn many times.
Social Media Links for Wizzy Gizmo!
Facebook: https://www.facebook.com/wizzygizmo
Twitter: https://twitter.com/wizzygizmo
Pinterest: http://www.pinterest.com/wizzygizmo/
Google+: http://www.plus.google.com/+wizzygizmo
Vimeo: http://vimeo.com/wizzygizmo