We received this for review purposes!

Product Links:
Fix It! Grammar: The Nose Tree [Book 1] (Teacher Manual)
Fix It! Grammar: The Nose Tree [Book 1] (Student Book)
Vendor Information Link: Institute for Excellence in Writing (IEW)
Age Appeal: 3rd grade and up
Format: Physical copy (Free PDF download is available with purchase of the Teacher Manual, may be used with multiple children)
Price: $15/Student Book and $19/Teacher Manual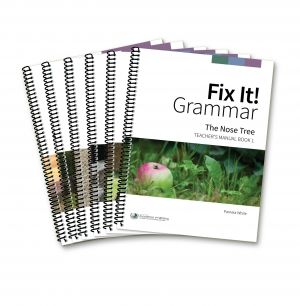 Do you need a new grammar program for any of your children? Institute for Excellence in Writing (IEW) has a wonderful program called Fix It! Grammar. There are six books in the series providing 33 weeks of lessons. This program offers both the teacher's manual and the student book.
Fix It! Grammar: The Nose Tree is the first book the series and contains four lessons per week. The first day of the week the student will learn the subject matter, like nouns or action verbs, for the week, then the student will correct the Fixes, work on the Grammar Notation, then rewrite the sentence in his/her notebook. The rest of the week will continue the same, with a new sentence to correct and rewrite. When the student has finished the 33 weeks of lessons they will have written the entire story of The Nose Tree.
There is a Placement Test and Webinar that should be looked at to determine what level your child should be in.
Our Experience:
Grammar was one of those subjects in school that I enjoyed, but I became tired of it after a few years. I became tired of it, because we always learned the same thing over and over, subjects, nouns, verbs, and predicates. I learned the other parts of speech and other important parts of grammar in my Spanish classes in high school.
I was super excited when we were chosen to review Fix It! Grammar from IEW. I chose The Nose Tree [Book 1], because I wanted B, C, and myself to be on the same page. I had yet to find a good grammar program that taught everything, but still had short lessons. This program was perfect, because over the course of the year it teaches everything and is not supposed to take over fifteen minutes per lesson. And they don't take over fifteen minutes!
The fifteen minutes time period works perfectly for B and C, because we use the Charlotte Mason Method, which is all about short lessons. There are also only four lessons per week. Since the lessons are short, sometimes we do two if the children are having fun and want to continue.
What a day's lesson is like for us:
If it is Monday we read the Learn It section for the week, before doing the Fixes and Grammar Notation.
We all read the sentence aloud.
B and C define the bold word.
Work on the Fixes- mark punctuations and indentations.
Mark the Grammar Notations for the day.
Rewrite the passage, making sure to double space in the notebooks.
B and C eagerly worked on these lessons. C was usually the one who wanted to continue working on more lessons. We will sometimes do this so we can get to Robin Hood [Book 2] sooner.
Mama's Thoughts:
This program was very good, because it kept building on what had been learned in previous weeks. The children learned nouns, articles, pronouns, next they will learn some different types of verbs. Each week they would not just mark what they were learning that week, they would also mark what they had learned in past weeks.
It would have been nice to have a table of contents, that contained the page number of the week's lesson and what was going to be covered. It would have made it easier for me to know what B and C were going to be learning and if I needed to learn it myself ahead of time.
I am glad that Fix It! Grammar stressed that the work should be done at the student's own pace. If the student is learning at their own pace there will be less fuss and they will learn the concepts more thoroughly.
The Teacher Manual and Student Book had wonderful instructions. I knew exactly what we needed to do each day and week. The instructions were also simple enough that B and C could follow them and do the lessons on their own. I would just need to correct their work later. The instructions were basically the same every week, with small variations in what the students were learning in Grammar Notations, so students who do not like change would be comfortable with the format.
B's Thoughts (boy, age 10, officially in fifth grade):
I really liked Fix It! Grammar. One of my favorite parts of Fix It! Grammar was marking nouns, articles, and pronouns. I liked the story choice. I really liked the Fix It! Grammar Glossary, because it tells about punctuation, parts of speech, sentence clauses and phrases, and more.
I do wish there was a table of contents. An index would be pretty cool too. I wish there more fixes than periods more often.
I thought it was creative to have the nice cover before the glossary. I thought The Nose Tree was excellent.
I think this complete grammar program would be good for people younger and older than me.
C's Thoughts (girl, age 8, officially in third grade):
It was fun learning nouns, articles, and pronouns. I liked Grammar Notation, they were tricky though. It was fun reading and writing.
I am excited to do more. I can't wait to completely read the story when I am finished writing it.
It is good for people of all ages.
Dad's Thoughts:
I wish I had had the Institute for Excellence in Writing's Fix It! Grammar writing skills course back in elementary school. Writing and grammar we're difficult subjects for me. Having to learn 3 or 4 new things in a day was challenging for me. After reviewing the Fix It! Grammar: The Nose Tree I actually started understanding how grammar works!
The lessons are laid out in an easy to read and understand format. And at about 15 minutes per lesson it's the right amount of time to comprehend and complete each day's assignment. The Nose Tree book has been well planned for student's use and for teacher's instructions. Even if writing and grammar are not your strongest subjects, the Fix It! Grammar course will soon have you writing like a seasoned professional!
I give the Institute for Excellence in Writing Fix It! Grammar writing skills course two pencils up!
Mama highly recommends!
Social Media Links:
Facebook: https://www.facebook.com/excellenceinwriting
Twitter: https://twitter.com/iew
Pinterest: http://www.pinterest.com/iewriting
Google+: https://plus.google.com/+Iewriting/posts
You Tube: https://www.youtube.com/user/iewtv
Vimeo: http://vimeo.com/iewtv