We received Leadership Garden Legacy for review purposes.

Product: U.N.I.Q.U.E. KIDS: Growing My Leadership Garden and U.N.I.Q.U.E.: Growing the Leader Within
Vendor Contact Information: Leadership Garden Legacy
Age Appeal: 8 to 12 for the children's version and Adult for the other version
Format: Paperback books, audio and PDF downloads
Price: The U.N.I.Q.U.E. Kids book costs $18.95 (ISBN: 978-0-9786798-5-9), U.N.I.Q.U.E Kids Activity Guide and Journal PDF download costs $8.95, and the MP3 audio download is $8.95. The U.N.I.Q.U.E. Growing the Leader Within paperback costs $18.95 (ISBN: 978-097867980-4), the Leadership Garden Guidebook also costs $18.95 (ISBN: 978-09786798-4-2), and the MP3 audio download is $14.95.
Debra Solver has created Leadership Garden Legacy to help everyone grow the leader in themselves.
Hugh is a frightened and lost young sheep who comes to the Leadership farm. While he is here he will take a tour with Annabelle, a boarder collie. He will go to different fields and visit with the animals who live there to learn the U.N.I.Q.U.E. (Understanding, Inventive, Quality, Unstoppable, Expression) Lessons which help him grow his leadership garden.
This story is included in both the children's edition and the adult one. The adult version also includes Solver's own personal stories. There are also MP3 audios of both books. The adult version has a paperback guidebook available and the children's has a downloadable activity guide and journal.
Excerpt from U.N.I.Q.U.E. Kids: Growing My Leadership Garden
Excerpt from U.N.I.Q.U.E.: Growing My Leadership Garden
Our Experience:
Leadership and good leadership qualities have always been important to me, because I was in 4-H for many years in leadership positions. I was excited when we were picked to review the U.N.I.Q.U.E. Leadership program. I want my children to be able to have and show good leadership skills no matter where they are.
B was so excited when the program came in the mail that we had to open the package and he started reading the book right away. He read some of the book by himself, then I told him that we had the MP3 audio download. I wanted C to have a chance too, so we began listening to the story, as they followed along. I followed along in the adult version. C was a little skeptical at first, but soon we were all enjoying the program.
I had downloaded and printed a journal for each of the children. I had also downloaded and printed the activity guide, so we were ready to do the activities when we were done with the chapter. I would work on the adult version and the children would work on the children's version. We had lots of fun.
We are currently working on finalizing our purpose and aim. That is taking a bit of time to get the wording right. We have finished listening to the story. And we can't wait to finish our activities!
I Liked:
We had lots of fun reading the book and working on the activities.
The children would say, "I want to do Hugh!"
I learned a lot about myself and so did the children. We learned that our balance wheels were not at balanced as we thought they were.
I would like to do the U.N.I.Q.U.E. Kids program each year with my children to see how they grow and change.
I liked the Leader Balance Wheel Inventory for the adults. It was easier to fill out than the children's.
We liked the program so much we would like to read a book two with Hugh and how he implements his purpose and aim and what he does with Annabelle.
I am planning on putting the MP3 audio onto a player, so we can listen to the story many different times.
I Disliked:
I thought the story with Hugh worked better for children than for adults.

What B (boy, age nine, officially in third grade) Likes and Dislikes: I really liked this book, although it could use a book two. In this book you learn to be a good leader. In it you learn how to plant leadership seeds. I think this book is good for kids my age.
What C (girl, age seven, officially in first grade) Liked and Disliked: I liked the illustrations. I think that they should make another book about the Leadership Garden. I liked the story. I think it would be good for kids my age.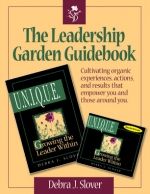 Dad's Call: I found Debra J. Slover's, U.N.I.Q.U.E. Growing the Leader Within, book to be interesting. I liked the exercises that help to show how you act and react in different situations.
Debra's personal stories help to illuminate the ideas of the book. One thing that could have been done better would be to tell the story of Hugh from start to finish then go back and analyze and add the personal stories. The way the book is currently written it was like going from stoplight to stoplight. It was hard to gain any momentum driving.
Overall you will find U.N.I.Q.U.E. helpful and insightful.
Mamma would definitely recommend the Leadership Garden Legacy products!
Special Offer:
Leadership Garden Legacy is offering a "Spring Special Discount" of 20% on all their Empowerment Tools. Their Tool Kit Bundles are already discounted.
To receive your discount, enter the discount code: TOS-SS20D upon checkout. The discount code will expire on May 31, 2013.