We received Spelling You See: Americana (Level D) from Spelling You See for review purposes!

Product Links: Spelling You See: Americana (Level D)
Vendor Information Link: Spelling You See
Age Appeal: elementary school or struggling spellers (placement information is on the website)
Format: Physical copies of the Instructor's Handbook and two Student Workbooks
Price: The Instructor's Handbook is currently $14 and the Americana Student Pack which includes the two workbooks and a pack of erasable colored pencils is $30.
Spelling You See is a program which has been used with children since 2000. It consists of short activities consisting of listening, speaking, reading, copywork, and dictation. Currently there are five available levels, Listen and Write (Level A), Jack and Jill (Level B), Wild Tales (Level C), Americana (Level D), and American Spirit (Level E).
Americana (Level D) contains nonfiction stories from American history. The students will chunk the letter patterns at the beginning of each daily lesson, then spend ten minutes on either copywork or dictation. The letter patterns which are chunked are Vowel Chunks, Consonant Chunks, Bossy r Chunks, Endings, Tricky y Guy, and Silent Letters.
There is a sample lesson available at the Americana webpage.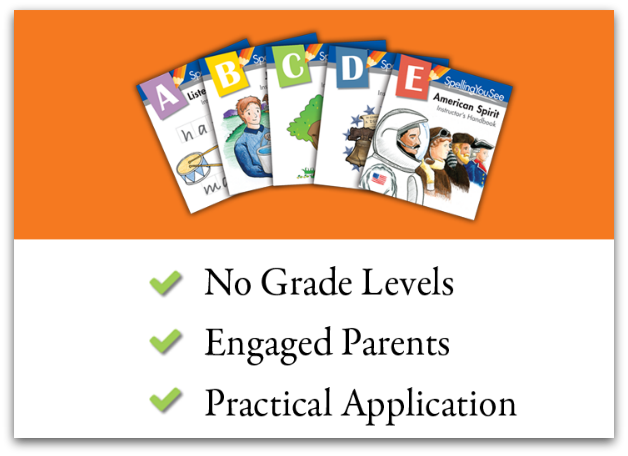 Our Experience:
We have struggled to find a good spelling program for B and C that models the Charlotte Mason Method, but is still fun.
From the moment I first learned about Spelling You See, I knew it would help B and C learn how to become more efficient spellers. It consisted of short lessons and natural ways of learning how to spell.
Each weekday I would read the passage, we would read it together, they would chunk the letter combinations of the week, then they would do either the copywork or the dictation for no more than ten minutes. If it was a dictation day I would dictate to one child at a time, because they write at different speeds.
Mama's Thoughts:
C has always been a strong speller and B has always needed extra help, so Americana (Level D) was a good fit for both of them.
I liked that the lessons were short, because short lessons work the best for B and C.
Seeing them learn how the words were spelled just by chunking certain letters was spectacular.
Sometimes teacher's books are not very helpful. I thought that the Instructor's Handbook was great. Dr. Karen Holinga didn't leave anything out. She included information about the philosophy behind Spelling You See and how the chunking, copywork, and dictation worked. The book had the answer key and all information needed to teach the lessons correctly.
B's Thoughts (boy, age 10, officially in fourth grade):
I really liked Spelling You See: (Americana Level D). I really, really think it would be a good spelling program from Demme Learning for children who are struggling with spelling.
I liked how you only had to do one part of a lesson a day. Chunking was fun to do. I was glad that dictation and copywork lasted only ten minutes, that way I didn't get tired of doing the work.
I enjoyed doing spelling, history, and handwriting all at the same time.
C's Thoughts (girl, age 8, officially in second grade):
I liked working on Spelling You See: Americana (Level D). Lesson 6E about the Liberty Bell was the best, because I spelled a lot of words correctly.
Children my age would learn a lot from Americana.
Dad's Thoughts:
Unfortunately Dad was unable to participate in this review.
Mama highly recommends the homeschool spelling program Spelling You See and Americana (Level D) !
Social Media Links for Spelling You See:
https://www.facebook.com/SpellingYouSee
https://twitter.com/spellingyousee