We received Amazing Science!, Volume 1 from ScienceandMath.com for review purposes!


Product Links: Amazing Science!, Volume 1
Vendor Information Link: ScienceandMath.com
Age Appeal: Grades 1-3
Format: 2 DVD (videos of 23 experiments for children to do)
Price: Currently $17.95
Does your family love science and science experiments?
Amazing Science!, Volume 1 has 23 experiments where your children will learn about heat, air pressure, magnetism, surface tension, and more.
Sample videos and the list of experiments can be found at Amazing Science!, Volume 1. The sample videos show three experiments, "Color Changing Milk," "Amazing Magnetic Force," Cloud in a Bottle," and "Balloon in a Candle Flame."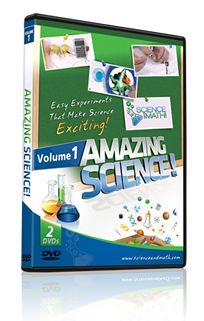 Our Experience:
We worked on our science experiments from Amazing Science!, Volume 1 during our science class time. We saved the more exciting experiments and the ones with fire for the weekend to do with Dad.
After we decided which experiment we were going to do we would watch the video and then do the experiment. If there was something we didn't catch the first time we would watch the video again, while working on the experiment.
Mama's Thoughts:
B is a kinesthetic learner and so is C to a certain degree, so watching the videos and doing the experiments was great way for both of them to learn. As you read B's part of the review you will discover how much he learned and enjoyed the different science experiments about tension, electricity, air pressure, and more. I think they may have enjoy some of the experiments even more than watching the videos.
B and C had fun watching the videos and doing the experiments with Dad. Two of the experiments they did together were the "build a lemon battery" and "unburnable money."
It would be nice to have a small booklet with the DVD that would describe the science being learned in each experiment, so we could study more of the concepts if we wanted to.
Some of the experiments needed more specific directions. When we explored surface tension with pepper and water, it did not work very well. I think we had too much pepper. If we had known a specific amount of pepper to use, it would have had better success.
I know these experiments are geared toward first through third grade, but I think they would work well for any age, especially if the child is kinesthetic or wanted a basic experiment before exploring the specific concept further.
I would encourage older siblings to teach these concepts and experiments to their younger siblings. It would be a fun bonding experience and give the teacher a break.
B's Thoughts (boy, age 10, officially in fourth grade):
I really liked Amazing Science!, Volume 1. The first experiment we did was to make a lava lamp. We did not make a real one, but a simple one. Making the lava lamp was also my favorite experiment.
My least favorite one was the invisible ink (see the photo below). I did not like it, because when we tried to decode messages baking soda and water smeared with the blueberry juice.
We tried to build the lemon battery. It did not work, because our lemons were not strong enough. It was fun to build the lemon battery and test it with the voltmeter.
I liked the science experiment of building the ocean in a bottle. In this experiment I learned that oil is less dense than water. A pecan is more dense than oil, but less dense than water.
"Soda can fizz" was really fun, because we learned about carbonation. It was fun watching the soda spew everywhere on Mr. Jason Gibson's video.
"Candle Suction Power" was cool! It was cool, because when you take a plate of water with a lit candle on it and place a glass over the top of the candle, when the candle goes out, the water level rises inside the glass. We learned about air pressure and that when you have hot air it wants to expand, but the cool air wants to contract. When the air inside the glass contracts then the water is sucked into the glass.
I definitely think that Amazing Science, Volume 1 would be good for all ages.
C's Thoughts (girl, age 8, officially in second grade):
I liked the "color changing milk" experiment. It was fun watching the different colors of food coloring make shapes in the milk. Below is a group of pictures from this experiment.
I also liked "balloon in a candle flame." The "soda can fizz" experiment was fun, because we learned that when you shake the can the soda will go everywhere when you open it. If you tap it on the sides six times, the soda won't go everywhere.
I think Amazing Science!, Volume 1 would be good for children younger and older than me.
Dad's Thoughts:
I enjoyed the Amazing Science!, Volume 1 science experiments. They were easy, affordable and entertaining. The experiments don't take a lot of time to complete and the video lays out everything you need and everything you need to know. The kids enjoyed doing the science even if they didn't turn out exactly like the Amazing Science! video demonstrations. It was fun doing this with the kids and I recommend getting the Amazing Science! program for your family.
Mama highly recommends Amazing Science!, Volume 1 for your young scientists!
Social media links for ScienceandMath.com:
Facebook: https://www.facebook.com/ScienceAndMathCom