We received Motivated Moms for review purposes!

Product Links: Motivated Moms Ebooks
Vendor Information Link: Motivated Moms
Age Appeal: Moms
Format: ebook or app for IPad/IPhone/IPod Touch (We reviewed the ebook)
Price: $8.00/ebook and $.99/month or $7.99/year for the app
Do you need an organizational system for working on household chores?
Motivated Moms, which is operated by Susan Cramer, might have the house cleaning schedule which will work best for you. You will have the choice of ebook or app. If you chose the ebook, you will have a choice of planners:
Weekly (color or black and white)
Daily (color or black and white)
With a scheduled Bible reading or without
Full-size or half-size pages
Click on the picture to see a sample of the ebook version I chose.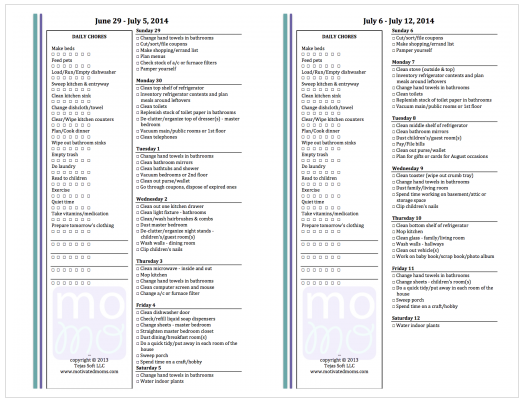 Our Experience:
I have to come clean and admit that I have always had trouble doing chores and keeping things uncluttered. I was hoping that the chore schedule from Motivated Moms would help me develop the skills and dedication I need to keep this house clean. I am happy to say, that things are looking cleaner and more organized in parts of our house.
I would make sure that the daily chores were taken care of throughout the day by checking them off after they were finished. I did my best to make the time to work on the weekly chores during the day and we had success. I also enlisted the help of my children. They have their own daily chores, so they were able to help me get the chores done, because they motivated me and some of their chores were the ones that needed to be done.
There were chores that were easy to work on, like make beds and empty trash on a daily basis. There were other chores that were challenging to me, like dusting, vacuuming, and cleaning mirrors. Those are chores which have always been hard for me to do, even if they only happen once a week or every other week.
Mama's Thoughts:
I thought it was great that the weekly chores repeated every couple of weeks, so if I was unable to get to one the first time I didn't have long to wait to try again.
There were some aspects I didn't like such as, not being able to customize it a little bit more for our family and how we were to plan meals around leftovers the day after we had made the menu. I also prefer to clean the bathrooms all at once instead of dragging it out during the week.
I was very glad to have the quick tidy throughout the house on Fridays, specific days to go through a box or bag of clutter, clean out vehicles and purses, and delete unwanted computer files (something I really needed to do). I thought it was great that each week we needed to go through or clean a certain part of the refrigerator or clean the light fixtures. They are something I don't spend a lot of time thinking about, so it was great to be able to clean them.
B's Thoughts (boy, age 10, officially in fourth grade):
I liked the Motivated Moms chore chart planner.
My favorite chore was moping the floor.
We did not do some of the chores, because we do not do those chores, like wash the porch rug and cut out coupons.
C's Thoughts (girl, age 8, officially in second grade):
I liked helping Mama do the chores. I enjoyed getting the vitamins, cleaning the bathroom mirrors, and mopping the floors.
There were some chores that did not apply to our family:
"Clip children's nails"
"Clean jewelry"
"Check stock of a/c or furnace filters"
I think Motivated Moms is good for moms. Children can help their moms do the chores.
Dad's Thoughts:
I liked the Motivated Moms cleaning and chore schedule. It's clear and concise as to what needs to be done and on what days. While there are many daily repetitive chores that need to be done, other infrequent chores are also included later in the schedule. Those things that may only need to be done once a month such as cleaning ceiling fans or light fixtures. I see this as a helpful tool to keep busy Moms on track but not overwhelmed with a long list of to do items trying to get a month's worth of chores done in one or two days.
Two things that I see could be improved are adding a blank line or two under each days' chore list to allow for schedule flexibility. Maybe some extra time became available and Mom completed an extra chore or two. Also on the other end maybe she's running short on time and needs to reschedule one or two things. The second thing is that there are activities schedule 7 days a week. It would be nice if there was a schedule specifically for those who observe the Sabbath and do no work on that day.
Overall, I like the idea of a schedule. It makes life a little easier when you can refer back to a guide and not just have to wing it on a regular basis.
Mama highly recommends Motivated Moms as an excellent housework planner !
Social media links for Motivated Moms:
https://www.facebook.com/motivated.moms
https://twitter.com/momoplanner