We received Mango Homeschool Edition for review purposes!

Product Links: Mango Homeschool Edition
Vendor Information Link: Mango Languages
Age Appeal: 6 through adult
Format: Online language course
Prices:
Introductory Pricing:
1 subscription is $18/month or $125/year total
2 subscriptions is $28/month or $175 /year total
3 subscriptions is $38/month or $225/year total
4 subscriptions is $48/month or $275/year total
5 subscriptions is $58/month or $325/year total
Anything over 6 subscriptions is a special group rate that will depend on the number in the group.
Do your children want to learn a different language, but they aren't sure which one they would like to learn? Mango Homeschool Edition with over 60 different languages, from Pirate to Latin to Ancient Greek, might just work.
Along with the 60 different languages, there are progress assessments, built-in journals and discussions, collaborative learning spaces, eNote messaging, and more.
Over the next several months they will be including:
Enhanced Tracking and Progress Monitoring.
Goals and Personal Lesson Plans (both stand-alone and tied into Mango courses)
.
Resume and Portfolio Builder.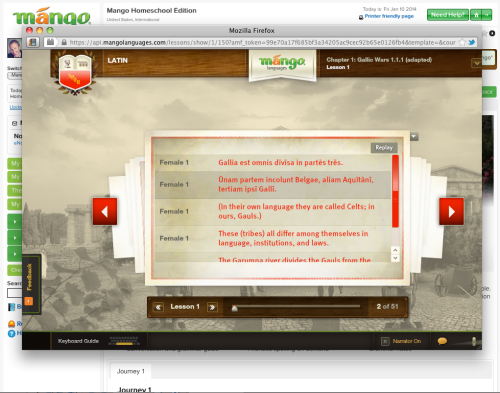 Our Experience:
B enjoys learning French and C enjoys Spanish. I thought Mango Homeschool Edition would be a fun homeschool online program that would help them improve their primary foreign language and help them to find other languages they may like to learn.
B and C were surprised at the amount of languages available and the fact that they could send eNotes to each other. They had fun trying different languages like Urdu, Dutch, Yiddish, Arabic, and more. I had them work on their main languages of French and Spanish 4 days a week and on Fridays they got to work on Pirate.
Together we picked the languages of Irish and Dutch to learn. We decided to try one lesson of the first chapter. We did finish the lessons, then we found some videos to watch, so we could learn more about Ireland and the Netherlands. C really enjoyed learning Dutch, so I think she may continue with the lessons.
Mama's Thoughts:
I tried to learn several languages, like Arabic and Hungarian, but I decided I currently do not have the time to dedicate to learning the language. I will have to stick with the little bit of Spanish that I remember.
The narrator's voice sometimes says, "Isn't this easy." It can be very frustrating when she says that. C mentioned that it sometimes bothered her.
I thought it was fun working on the lessons with the children, but I could see how many people trying to work on one lesson at the same time wouldn't work. We kept interrupting one another and we could not agree on our pronunciations.

I think the eNote feature would be handy if I wanted to write a note in the language to one of the children or ask how things were going. It would help to communicate with other members in the language group.

Since this program is currently built on learning by conversation, it might not work for a family who wants to learn a foreign language in the traditional way.

Since there are over 60 languages, everybody should be able to find the language they would like to learn.

It would be nice if there was English as one of those languages, so that people who don't speak English could pick up the conversations if they were going to be in an English speaking country for a while.
B's Thoughts (boy, age 10, officially in fourth grade):
I liked Mango Homeschool Edition. I think it would be good a product if you want to learn a foreign language.
My favorite language was French. I liked French, because I had previous learning experiences.
My least favorite was Irish. I didn't like Irish, because it was hard for me.
I also liked Pirate. I finished the whole Pirate course.
I did not like:
That all of the features were not finished yet. They are coming soon!
I did like:
That there was French!

There were languages I had never heard of like, Yiddish and Urdu.

That it was good for homeschooling.

That there were over 60 different languages to choose from.
I recommend Mango Homeschool Edition for all ages.
C's Thoughts (girl, age 8, officially in second grade):
I liked learning Pirate, because it was easy. It was also fun. My brother and I played pirate while we were learning the language.
I spent most of my time learning Spanish. Spanish is my favorite language to learn. It was hard to remember some of the words, because they were really difficult and long.
I was unable to do Egyptian Arabic, because the words weren't in English.
I liked sending e-notes to my brother.
It would be good for kids my age and older.
Dad's Thoughts:
Mango Homeschool Edition is a neat program to learn a new language or to get a refresher. There is a wide selection of languages to choose from including Pirate. I wasn't aware of such a language but after doing a few lessons it's very entertaining and informative. Mango is easy to use and does a good job instructing on how to pronounce the words and how to properly use them.
If you're looking to do something new or just get back into the swing of a second language that's gone rusty due to non-use I recommend Mango as your guide.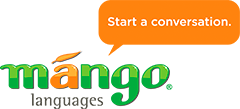 Mama recommends Mango Homeschool Edition as a homeschool curriculum for foreign languages!
Social media links for Mango Languages: