We received this for review purposes!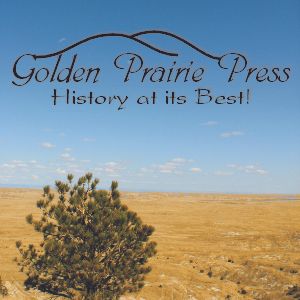 Product Links: Digital Heroes & Heroines of the Past: American History Curriculum
Vendor Information Link: Golden Prairie Press
Age Appeal: Best for grades first through sixth (can be used with older ages)
Format: Digital downloads (Adobe files and MP3s), large Zip Files
Price: As of May 12, 2014 the price is $98.99
Do you have children in multiple grades and need a history program that works for everyone?
Golden Prairie Press and Amy Puetz have developed a digital copy of Heroes and Heroines of the Past: American History. This thirty week program begins with the Vikings and ends with our most current presidents. The download includes PDFs of the text and needed extras along with MP3s of songs and speeches.
This program has the text divided into different age groups, 1st and 2nd, then 3rd through 6th. At the end of the daily lessons there are questions, a geography section, "Writing Topics," memory verses, "Examining Historical Art," and the special activities. The special activities are games, cooking, singing, listening to historical documents and speeches, crafts, and experiments.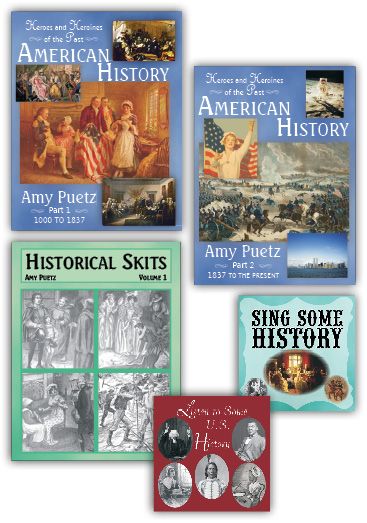 Our Experience:
If B and C could decide which area of history they would able to study, it would be American history. Heroes and Heroines of the Past: American History, became an instant favorite in our homeschooling day.
This American history program has two separate books and is divided into different sections like "The Revolution" and "The Period of National Development." Since we were reviewing the digital version I printed one section a week for B and C.
Each lesson has a part for 1st and 2nd (C) and for 3rd through 6th (B). Initially I had each of them read their own section. I discovered even though there was enough information for C in her section to answer the questions she would not be able to answer the questions. After the first couple of lessons I had them read their parts, then I would read the 3rd through 6th part aloud so C could learn and remember more information. After they verbally answered the questions we moved onto geography, "Writing Topics," "Examining Historical Art," and the weekly memory verse. Some days had extra activities like cooking, games, crafts, and listening to documents and speeches.
Each of our daily lessons varied on the amount of time it took us to complete them. It varied due to the extra projects. B and C had the most fun with the extra activities like cooking and games. The writing topics were difficult and time consuming for the children. B could not keep technology out of his history. C had a hard time opening her mind to the creative process. After I had her think of things for who, what, when, where, why, and how before she began writing, it became much easier for her.
I really enjoyed this history program, so I plan on continuing it into the next year.
Mama's Thoughts:
This is such a fun homeschooling history program. It is something I would have enjoyed when I was in school. I only remember reading the text, answering questions, and taking tests for my elementary American history. B and C were able to listen to songs, play games, and perform skits.
I am glad there were answers to the questions at then end of each volume. I would like to see this program have tests, so that I can see how well B and C are learning and remembering the material.
It was exciting for me to learn about the history I already knew and learn about new people and events. I did not know anything about John Winthrop, Sarah Edwards, and George Whitefield. I learned more about the Puritans than I had ever known from a religious point-of-view.
I am very thankful that Amy Puetz spent the time writing and developing this elementary American history program. It will serve homeschooling families for many years to come with its in depth text and fun activities.
B's Thoughts (boy, age 10, officially in fourth grade):
I liked Heroes and Heroines of the Past: American History. I had fun making Succotash with Mama. It was delicious. I also liked listening to history. My favorite was "The Mayflower Compact." I enjoyed playing the games. My favorite game was "Pitching Pennies." Blind Man's Bluff was also fun.
I liked the "Writing Topics," but I could not come up with any reasonable ideas. My favorite person to learn about was George Whitefield, because he was a preacher and one of the people who began the first Great Awakening.
I think this Providential history program would be good for people of all ages.
C's Thoughts (girl, age 8, officially in second grade):
It was fun to read the lessons, especially the stories. They were really good. I did not really like the writing topics. I could not think of one thing to write. We listened to "All the Pretty Little Horses." B and Mama cooked Succotash.
This program is good for people my age and older.
Dad's Thoughts:
Amy Puetz's Heroes and Heroines of the Past American History book raises the study of history to new and exciting levels. She includes many pictures, drawings, and maps to help illustrate the lesson's topic of discussion. Amy has also included activities at the end of each lesson such as Examining Historical Art, Games of the Past, Crafts, Cook up Some History, Experiments and more to help students experience how the people of that time lived. The recipes and games look quite interesting. I wish I would have had something like this for my history classes as it would have been so much better than just reading a text book and taking a test.
If you're looking for something to really engage your kids in the study of history beyond just reading assignments, give Amy Puetz's Heroes and Heroines of the Past American History a try. You just might find yourself doing the activities time and time again long after the lesson has passed.
Mama highly recommends!
Social Media Links for Golden Prairie Press: