We received IXL Learning for review purposes!
Product Links: Online Math Membership (Pre-K - 12) and
Online Language Arts Membership (2nd - 4th)
Vendor Contact Information: IXL.com
Age Appeal: Pre-K to 12th grade math, 2nd-4th grade currently for language arts
Format: online program
Price: $9.95 per month for math or language arts, $15.95 a month for both, $79.00 for either math or language arts, and $129.00 a year for both for one child. Each additional child is only $2 per month, or $20 per year.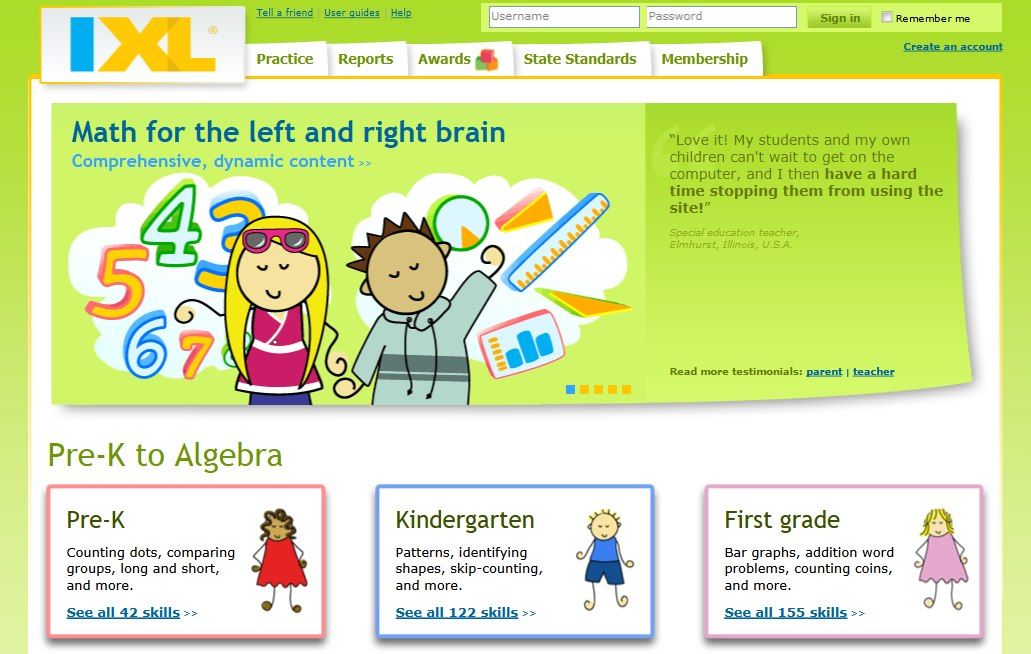 Are you looking for a fun online program for your children to use to reinforce their learning in language arts or math? IXL might be just the program for you! There are more than 2,500 skills to learn and they can practice with the click of a button. They receive medals and awards when they accomplish different skills. They will also receive printable certificates for their achievements.
You can try out the program for free with 20 questions for the day.
Our Experience:
I was excited that we were able to use IXL Learning. We had come across the program before and C was disappointed when her 20 free questions were done for the day.
We used IXL five times a week for both language arts and math. We did each subject for twenty minutes each day. When B and C worked on each subject I let them select what topic they would work on. I knew that as long as they were working on their grade level they were learning and expanding what they needed to know for their grade level.
I was glad that I was able to select the state we live in. I knew then that B and C were getting the specific education for our state. It was a comfort.

Mama's Thoughts:
I liked that B and C could pick which topic they wanted to work on. In math, C worked on money, patterns, addition, and more. B worked on geometry, rounding, probability, word problems, and more. In language arts they worked on future tense, antonyms, nouns, verbs, and more.
It was great that B and C didn't have to work on a certain grade level. If they had a problem with the grade level they were working on they could select a lower grade to get some easier practice first.
One thing I didn't like was that when the children entered the "Challenge Zone" at a score of 90 and they missed only one question that their score dropped back into the 80's and they had to answer a lot of questions to be able to get back to 90 again. I realize that going back down was for mastering the skill. I found it discouraging when I tried it and all I had done was miss one question and had to go through the process all over again. I think it would be better if you could miss two questions, instead of just one.
I enjoyed being able to try the program under my name. It made me realize how much I have forgotten or never had the chance to learn in school. It was fun to see what they were learning.
I know IXL Learning is generally not used as a teaching tool, but as review. I thought their explanations of the incorrect problems taught them what they need to know, unless it was something more complex like multiplication and division.
The children were so excited when their certificates called, "Certificate of Achievement" came by e-mail. Their certificates were for time completed, tasks completed, number of questions, and more. I imagine we could fill our schoolroom wall with printouts of their certificates.
I especially enjoyed the weekly e-mail reports I received each weekend on the children's progress for the past week. I was able to know exactly what they did and how well they were doing it.
I was so impressed with IXL, that I am planning on implementing it into our daily school schedule. When B and C are using IXL Learning I feel they are learning exactly what they should.
B's Thoughts (boy, age nine, officially in fourth grade): I liked fourth grade language arts. I liked learning about action verbs, similes, metaphors, and greets and closings in letters. You can do more on IXL than reviewing the skills, you learn a lot too.
Although math is not my favorite subject, I really learned a lot. I learned some geometry, probability, and more.
I think this product would be good for kids my age.
C's Thoughts (girl, age seven, officially in second grade): I really liked math. I liked learning about money in math. I liked getting the prizes. See some of my prizes in the picture below!
I liked changing the present-tense verb into the future-tense. I liked all of what I did for language arts.
I enjoyed doing each subject for twenty minutes each day.
It is good for people of all ages, grownups and children.
Dad's Thoughts:
The IXL Learning website is a great tool to use in conjunction with your homeschooling lessons to reinforce what's been taught. The design is appealing and it's easy to navigate to get where you want to be and the topics are broken down into easily identifiable categories. IXL is a top notch online practice program for math skills and language arts. Having said that, you will still need to teach the basics of each subject. For example, IXL asks the student which word in a sentence is the noun. The student then selects the best multiple choice answer. IXL doesn't explain what a noun is, the program simply asks you to identify it. I would suggest that to really take the "wow" factor up that IXL provide parents a sort of test module. The module would simply have the same programming that the students see but that the parent would read the questions and have the student verbally answer. This would confirm that students are actually comprehending the subjects and not just mastering multiple choice. Even without the test module IXL is wonderful program to add to your teaching toolbox. I know B & C are enjoying it.
Mama highly recommends IXL Learning!