Product: Essentials in Writing Third Grade received in exchange for an honest review
Vendor Contact Information: Essentials in Writing
Age Appeal: Grade Three (ages 8-9)
Format: DVD for the lessons and downloadable PDF worksheets ($20 for pre-printed workbook)
Price: $40
Do you need an easy to use language arts program to use with your children?
Essentials in Writing, created by Matthew Stephen, is a program that uses a combination of DVD lessons and worksheets. It is available for grades 1-12 and focuses primarily on composition.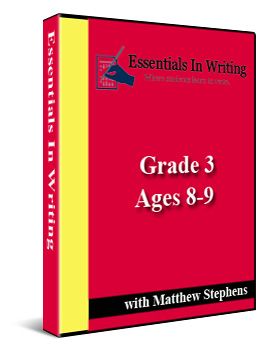 Our Experience:
As the daughter of a school teacher, I know how important grammar and composition are not only in school, but also in our daily lives. I have been looking for a strong program to use with my children and this one has worked quite well for us.
We have worked on both grammar and composition. It was good for them to review sentence types and then learn more about nouns, alphabetization, how to write a letter and how to write a paragraph. I am currently planning on using this program for the rest of the year. I would like to use Essentials in Writing in future years, because I don't want my children to have to learn the same thing year after year as I did.
What I Liked:
B was very excited to do it. C is consistently eager to do it.
The videos are complete and the worksheets are simple, but thorough.
It is a good program for children who need a different teacher than their parents.
It can be used as a good supplemental program for parents who need more for their children who go to public schools.
It has an answer key!
What I Disliked:
It needs to have more practice on the concepts the children cannot comprehend.
It would be good if the composition and grammar were not divided in half. I feel the children would forget the grammar learned in the second half of the school year.
What B (boy, age nine, officially in third grade) Liked and Disliked: I liked Essentials in Writing. It was a good product if you need to work on your grammar. There are lots of DVD lessons. There is even a workbook to go along with it.
I think it would be a good product for kids my age.
What C (girl, age seven, officially in first grade) Liked and Disliked: I liked Essentials in Writing. The lessons were fun. I liked the grammar and the composition, because you get to write and underline things.
It's good for kids my age, even though I'm officially in first grade.

Dad's Call: In Essentials In Writing, I like the format as it breaks the lesson down into easy segments to complete and comprehend. It doesn't become overwhelming with a lot of information that can become frustrating. I also like that the presenters are professionally dressed and not just in t-shirts as is the common trend in public schools. Essentials In Writing is a good program to add to any homeschool curriculum.
Mamma would definitely recommend!

Disclaimer: I received a free copy of Essentials in Writing (Grade Three) through the Schoolhouse Review Crew in exchange for my honest review. I was not required to write a positive review nor was I compensated in any other way. All opinions I have expressed are my own or those of my family. I am disclosing this in accordance with the FTC Regulations. All links were current when posted.