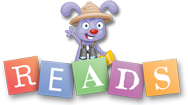 Product: READS Parent/Child Reading Comprehension System
Vendor Contact Information: EGM Educational Systems, LLC
Age Appeal: Grades One-Four
Format: Instructional Kit with aids (see picture below)
Price: $19.95
Do you need a way to make sure that your children are comprehending what they are reading? Do your children need a little extra help when spelling? Then turn to the READS Homework Helper. READS stands for, "Really Easy and Dynamic Strategies."
In your package you will receive:
A 16 page parent's manual.
30 question cards for the parent and children to use to make sure that what is read it comprehended.
Reward Chart with stickers to track progress
Reading Guide Strip
Magic Finger
Speedy Speller Handbook for Readers and Writers containing more than 1400 words with space to add more
Storage Pouch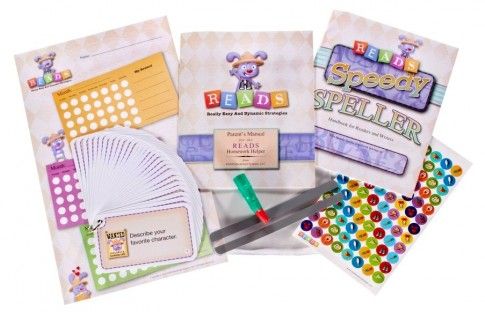 Our Experience:
I was interested in reviewing READS, because I knew that C could use the Magic Finger and B could use the Speedy Speller. I also thought that I could use the Question Cards to make sure the children comprehended their daily science and history lessons.
B and C were very excited when the package arrived and they immediately opened it and started using the Magic Finger, Question Cards, and Speedy Speller. C thought the Magic Finger made her finger too warm, but I suggested that she just hold it. It seemed to work well for her. B likes to write, so the Speedy Speller was handy for him, because he didn't need to ask me how to spell words.
I enjoyed using the Question Cards, because I had never thought of some of the questions. One of those questions would be number 16, "What did this story make you wonder about?" I plan on using these cards for many years to come.
What I Liked:
C was so excited for her Magic Finger that she cried when it wasn't in the mail. She was excited to use it when it came.
Most of the questions worked very well for us. The rest will work well when I have them read silently to themselves.
B had a lot of fun looking up words in the Speedy Speller and writing people letters.
The Parent's Manual described the type of response expected from each question.
The Reading Guide Strips works well in Bibles to keep my place on the page.
What I Disliked:
The Magic Finger was a little too much like a witches' finger.

What B (boy, age nine, officially in third grade) Likes and Dislikes: I like the Speedy Speller. It has little words like "quit" and big words like "suggestion". It also has abbreviations for all 50 states and U.S. Territories. I think this product would be good for kids my age.
What C (girl, age seven, officially in first grade) Liked and Disliked: I liked the Magic Finger and the Speedy Speller. The Speedy Speller has five words that begin with the letter 'z'.' Mamma wrote down one 'c' word for us. She also wrote one 'b' word. It is good for kids my age.

Dad's Call: I enjoyed this program. It is well thought out to help improve a child's reading retention. I especially liked the Question Cards. They ask open-ended questions or questions that require thought. They get away from the "yes or no" answers". The READS program benefits both children and parents. I highly recommend this.
Mamma would definitely recommend!

Disclaimer: I received a free copy of READS Parent/Child Reading Comprehension System through the Schoolhouse Review Crew in exchange for my honest review. I was not required to write a positive review nor was I compensated in any other way. All opinions I have expressed are my own or those of my family. I am disclosing this in accordance with the FTC Regulations. All links were current when posted.