We received the Diary of a Real Payne Book 1: True Story by Annie Tipton from Barbour Publishing for review purposes.

Product Link: Diary of a Real Payne Book 1: True Story
Vendor Contact Information: Barbour Publishing
Age Appeal: 8-12
Format: paperback, 192 pages, ISBN: 978-1-62416-131-5
Price: $5.99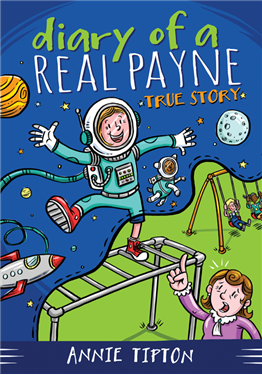 Emma Jean Payne (EJ) finds her town of Spooner, Wisconsin boring and she can't wait to leave when she is a grownup. When she becomes the lead angel in the Christmas pageant, she learns that Spooner isn't that boring and God has big things for her to do.
This book has drawings at the beginning of each chapter, diary entries, and EJ's incredible imagination, which sometimes gets her in trouble.
Our Experience:
We enjoy reading books together and this book was an excellent one to read. The children thought it was fun to read. I enjoyed watching their faces and hearing them laugh as we read about EJ's antics. I thought it was funny too. We would read a chapter or two each time we sat down. We all wanted the book to last as long as we could, but we also wanted to keep reading. I had to finish the book, before I finished reading it to the children, because I kept reading reading silently when I should have been reading aloud. I even had a hard time not reading silently when I finished reading the book to B and C. It was that good.
I Liked:
I liked the message Annie Tipton was portraying: God has big things for EJ to do in Spooner, Wisconsin. EJ had the chance to do big things and it really made her happy. It also made her realize that her town wasn't as boring as she thought. A great message for B and C to learn.
The diary entries before each chapter always made us laugh. They were a great start to each chapter. I could really see the ten-year-old girl in each entry.
This would be an excellent book in any school or public library, because while God plays a major part in this book he is not overstated.
The adults, EJ's parents and Mrs. Winkle, were awesome. They showed great Christian strength.
I Disliked:
It would have been helpful if there was a table of contents
What B (boy, age nine, officially in fourth grade) Liked and Disliked:
I liked Diary of a Real Payne Book 1: True Story. I thought it was a very, very good book. My favorite chapter was, "Caution Flag," because I liked when EJ went racing in the store. I liked the diary entries too. There was a good combination of diary entries and chapters. There was nothing to dislike.
I think this book is great for kids of all ages.
What C (girl, age seven, officially in second grade) Liked and Disliked:
I liked the pictures. I liked the whole entire book. EJ learned it was more important to give to others than to get. My favorite chapter was "Code Christmas." I also liked the chapter, "Caution Flag.
It is good for people of all ages.
Dad's Call:
I enjoyed the story of EJ Payne. It combined humor, creativity, faith, and family values into a book to be enjoyed by all family members. Christian faith was worked into the storyline in such a way that it just flowed and integrated well with all of the other activities happening. It was as natural to discuss praying as it was to discuss the dinner menu. Even though EJ's father was a pastor the view point of the Payne family was always one of "love thy neighbor". That really brought the story together in the final chapters.
The highlights of the story were EJ's parents and Mrs. Winkle, their neighbor, encouraging EJ's daydream creativity even though she gets carried away sometimes. They do suggest moderation but they don't quell it altogether. That's something that we need to promote more of in our children today. The other highlight was when EJ and her family decided to give up something that's special to them in order to help others in need.
Diary of A Real Payne Book 1: True Story is one to add to your personal collection and would make for great read aloud family time.
Mama highly recommends Diary of a Real Payne Book 1: True Story by Annie Tipton from Barbour Publishing