We received the Early Edition from God's World News for review purposes.

Product Link: Early Edition (Gr 1-2)
Vendor Contact Information: God's World News
Age Appeal: 6-8 (1st & 2nd grade)
Format: magazine through the mail
Price: $28.00 for 10 issues
Are you looking for a magazine that tells about world news from a Biblical point-of-view for first and second graders? Look no further than Early Edition from God's World News!
A subscription to this magazine includes a map and ten issues of the magazine. Each issue of the magazine contains articles, Bible verses, and activities for the children. There is also a website for the children which has more information and activities.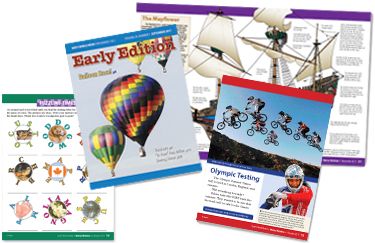 Our Experience:
We chose Early Edition, because I wanted something more for C's grade level and there were more activities to do. We had a lot of fun reading the magazine together, learning the Bible verses, and exploring the website for Early Edition.
I decided to take our Bible study time in school and make it both Bible study and current events. We would read the articles in the magazine and do the activity pages if we came across them.
I Liked:
I liked how interested B was in reading the magazines. He would sit there and read them. It wasn't enough information for him though, he wanted more.
It was a perfect magazine for C. She had more fun exploring the website than reading the magazine. She would select the article and have me read it to her.
I personally thought that there could have been more information for first and second graders. C liked the amount though, so if a second grader liked it, then I guess it did not need more information.
The photography was excellent and the puzzles and activities were intriguing and challenging.
I thought the website for children was well designed and contained a lot of information. It had people (biographies), science, creation, games, and more. Each article had multiple photographs, Bible verses, and some of them had quizzes. It is a website that I feel safe letting my children explore on their own.
I Disliked:
What B (boy, age nine, officially in fourth grade) Liked and Disliked:
I liked Early Edition, although it could contain more information in each article. I liked learning about different things all over the world. I do not recommend this magazine for kids my age. I think it would be perfect for second grade and younger.
What C (girl, age seven, officially in second grade) Liked and Disliked:
It is good for kids my age and younger. I liked the games and reading the stories. It was fun learning things in the news. I liked learning about Carmelo Flores Laura, because he was 123 years-old and didn't use a cane. I loved the kid's section on the website. It was fun to look up past articles.
Dad's Call:
God's World News Early Edition magazine for 1st & 2nd graders gives a visually appealing first impression. When you look through the magazine there are a variety of story topics from around the world that fill the pages. They also have games and activities found on the "Puzzling Time" pages for the kids to do. I like that many of the articles have added scripture that specifically relates to that story. Each story is accompanied with a picture (or pictures) adding depth to each article. The staff pay attention to detail and the final product shows it.
The one thing I'm not overly excited about the magazine is the length of the majority of the stories. There are one or two main stories that get a considerable amount of space (up to two pages) but the rest are simply a few paragraphs. The Early Edition is for children ages 6-8 but I think they can handle, and may want, longer articles. I understand that it's to keep up the attention span but I think we give our kids not enough credit when it comes to stretching their reading abilities.
Overall, I enjoyed the three issues that we have received as well as the online content that's available with a subscription. The rates are reasonable and the content is enjoyable. God's World News Early Edition magazine is worth looking into for your kids.
Mama recommends Early Edition from God's World News.