We received Rosie's Doll Clothes Patterns for review purposes.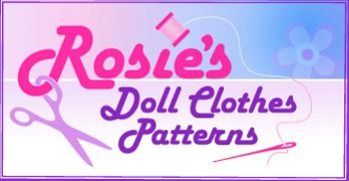 Product Link: Learn How to Make Doll Clothes Video Course with 8 Free Doll Clothes Patterns
Vendor Contact Information: Rosie's Doll Clothes Patterns
Age Appeal: 8 and up
Format: Online video course, PDF downloads of patterns and instructions for American Girl dolls or 18 inch dolls
Price: $47.46 at the time of my review for one year access to six lessons and eight patterns for 18 inch dolls with videos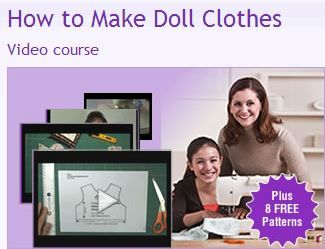 Do you like to sew or would you like to learn how to sew doll clothes? Rosie's Doll Clothes Patterns is an online video course, which shows you the easiest way to make doll clothes and includes 8 free American Girl doll clothes patterns.
Some of the things you will learn are:
The best fabrics to use.
How to sew on Velcro.
The best tools to have.
How to use different trimmings, like ribbon and buttons.
Our Experience:
We were very blessed when we were chosen to review Rosie's Doll Clothes Patterns. This past summer C really wanted to make doll clothes and I didn't have any patterns, so we improvised. The outfit Christen made was nothing like the outfits we have made during these past six weeks. And C was super excited to use these doll patterns.
I decided that it would be best to watch some of the video lessons first and then we would try to make the clothes. The videos were both long and short, but the detail was incredible. After we watched some of the lessons we decided we would make the pair of shorts.
I first printed off the pattern and the instructions, then we watched the videos that corresponded with the steps in the instructions. We did it one step at a time. I was really glad we did that, because I have never really sewn anything on the sewing machine. We had a lot of success with the shorts and we also made a sarong and two crop tops. We are looking forward to making a hat next.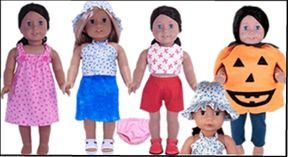 Mama's Thoughts:
It seems to me as if every time I use a sewing machine that I have problems with it, and this time was no different. We were able to borrow two sewing machines after ours stopped working, so we were able to keep going. I had problems with one of the borrowed machines, but fortunately I was able to solve the problems myself. I liked sewing the clothes on the sewing machine, even though I had problems. It was a lot faster than sewing by hand.
I thought the video lessons were very complete. I really appreciated that. It would have been nice if the website could have gone from one video to the next without having to click on different links. I had a hard time finding the video on casings one time. I had to look through each week and each section, so it would have been helpful if I could have seen a complete list of all the videos at one time.
I liked all of the work that C and B could do themselves. They just need to keep practicing, so they can pin and cut out the fabric quickly and smoothly.
It took us a long time to do each step, so we only worked on a couple of steps each day.
Our next goal is: as we continue to progress with the different patterns, we need to have a slower machine and a lot more time per day to work on the pattern.
B's Thoughts (boy, age nine, officially in fourth grade):
I liked watching the videos and cutting out the patterns. I liked sewing on the machine, because I think sewing on the machine is fun. You really learn a lot from watching the videos. I learned how to gather, thread the elastic through the casing, sew the hem, and more.
I think this would be good for children my age and up, boys and girls.
C's Thoughts (girl, age seven, officially in second grade):
I liked Rosie's Doll Clothes Patterns. It was fun sewing. I helped sew the clothes by pushing the foot pedal, ironing, and pinning and cutting. I liked the videos. She made it look so easy, but it really wasn't easy, especially the shirts.
It would not be good for children younger than me, unless you can sew with a sewing machine. It would be good for people who have experience with sewing machines.
Dad's Thoughts:
I really enjoyed Rosie's Doll Clothes Patterns website. It is very informative and instructive. Rosie has done such a great job of laying out her course that anyone from an absolute beginner to a seasoned pro can easily navigate through her videos to find the exact topic they want. Giving each task it's own video instruction is great as you can focus on that one project and not have to search through a comprehensive video for the specific topic you want. That also creates shorter videos that make it convenient to stop the lesson and return to it the next day without having to remember the time code where you stopped in an all encompassing video.
While I'm not a tailor (except for the occasional emergency button repair) I could do these lessons because Rosie has done such a thorough job with her course. Mama & C have done some of the patterns and their finished products look fantastic. Definitely worth investing in Rosie's Doll Clothes Patterns for the seamstress (or tailor) in the family.
Mama highly recommends Rosie's Doll Clothes Patterns, but make sure you know how to use a sewing machine really well first.