We received Zondervan's KJV Homeschool Mom's Bible for review purposes.
Product Link: KJV - http://zondervan.com/9780310431473
Vendor Contact Information: Zondervan
Age Appeal: Adult (Homeschool Moms)
Format: hardback book (ISBN: 978-0-310-43147-3)
Price: $34.99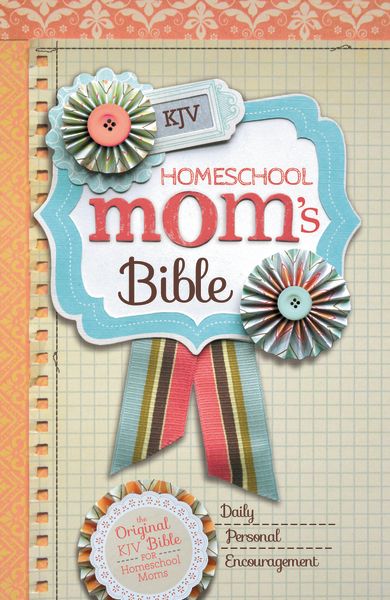 Zondervan's KJV Homeschool Mom's Bible has 365 daily devotions written by Janet Tatman, who has more than 25 years of homeschooling experience. Some subjects included are rest, money, pride, and many more. There is a forward written by Vickie Farris, author and homeschool mom. At the end of the Bible is a Topical Index.
Our Experience:
I was very interested in this style of Bible. I have read Bibles with studies in them before and since I am a homeschool mom I thought this one would be perfect. I would have a new Bible and Bible Study together.
I had decided that I would read all of the daily readings, so I could give you the best review possible. I did read them all and I can't wait to read them again as part of my daily Bible study. I also enjoyed having a topical index. I can go back and pick the topic when I need specific encouragement. I also have a list of my favorite devotions, so I can go back when I need to.
I also had Dad look at the Bible, so he could give his opinion from a dad's point of view.
I Liked:
I liked the description on the back of the Bible. It described exactly what I found in the Bible. I also thought the cover was pretty and eye-catching.
I liked how much Janet Tatman put her heart and soul into this book. Each day of the Bible study had her own personal experiences and I felt that I learned about her parenting and teaching styles.
I liked how it could teach me about different ways to help my children grow as I teach them as a parent or a teacher.
I Disliked:
I wish there would have been more scripture involvement with the Bible. The first verse could have been one that the reader had to look up.
I also wished sometimes that the personal stories had been finished, so I would have known how to deal with a similar situation.
What B (boy, age nine, officially in fourth grade) Liked and Disliked:
B did not take part in this review, because this Bible was for moms.
What C (girl, age seven, officially in second grade) Liked and Disliked:
C did not take part in this review, because this Bible was for moms.
Dad's Call:
There is a growing trend to have bibles with devotionals or short one page articles using scripture to address a particular issue. Janet Tatman has done this with The KJV Homeschool Mom's Bible. The 365 devotionals (one a day) provide guidance, comfort, reassurance, and strength to Moms who homeschool. This can be a big help when the day isn't going when the kids having an off day or even if the husband is off in his own little world not giving full support (or attention) to her.
The devotions address such topics as children, cheating, laziness, joy, rest, service, traditions, questions and more. There is a topical index that alphabetically lists the many topics and tells you on which page or pages you can find them for quick look-ups. Each devotional also has a prayer at the end and tells you the page number for where you can find the next day's devotion. This is a handy feature.
If you homeschool this would be a great addition to your library to support those facing the daily challenges of not only raising children but educating them as well. Janet Tatman did a fantastic job with The KJV Homeschool Mom's Bible. Get your copy today.
Mama highly recommends KJV Homeschool Mom's Bible from Zondervan!